Den technology not just provides product to the people but also helps them build a complete barcode, Inventory, Point of sale systems or EAS Systems solutions. With these services we provide, we try to meet the needs of the business you are indulged in. As a total solution provider, Den technology provides leading software solutions for the users' devices.
These solutions will differ according to your needs but will prove to be efficient. We have our own software development team that creates or modifies existing software packages, depending upon the needs. Other than this, our company also provides label design software, Warehouse Management Software, Mobile Device Management software, etc. Our team has also helped businesses in designing and developing various solutions. We also give consulting services in the use and acquisition of Automatic Identification and Data Collection (AIDC) technology. Being in this business for a long run, we are particularly familiar with the way this technology is used by the several sectors.
AIDC Consulting
Manufacturing
Logistics
Retail
Healthcare
Education
BFSI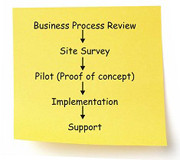 Solution Design & Development
Product Traceability (Compliance)
Work in process automation (WIP)
Warehouse management system (WMS)
Mobile computing/ Inventory (WIFI)
Asset tracking (RFID)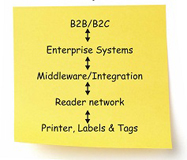 It's easy to get started. Contact us with your requirements.